200+ Years of Innovation at Sun Chemical
Beginning with the inspiring legacy of Lorilleux and Samuel Morrill in the early 1800's, Sun Chemical has delivered 200 years of color expertise, innovative technology and an ongoing commitment to quality and service for our customers. With close to 10,000 worldwide trademarks and over 3,000 granted patents in various global jurisdictions in its history, Sun Chemical takes pride in producing solutions tailor-made to meet the individual needs of customers.
Below is an interactive timeline that celebrates our long history of achievements and leadership in the industries and markets we serve. As you scroll down and learn more about our unique history, you will discover our fierce commitment to working for you through research and development that will bring customers new innovative and sustainable solutions.

Lorilleux is founded
One of the first commercial producers of inks is founded as Lorilleux & Cie. Lorilleux & Cie is the first specialty ink company of its kind, in a time when most printers make their own inks.
1830
The Geo. H. Morrill Company
Samuel Morrill begins manufacturing printing inks in the kitchen of his Andover, Massachusetts, home.
1853
Morrill Company obtains patent
The Morrill Company obtains the first patent on their ink-making process.
1864
The introduction of carbon black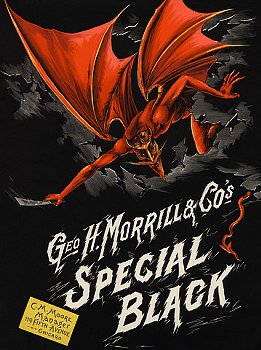 The Morrill Company begins producing carbon black from natural gas.
1877
Coates Brothers & Company is founded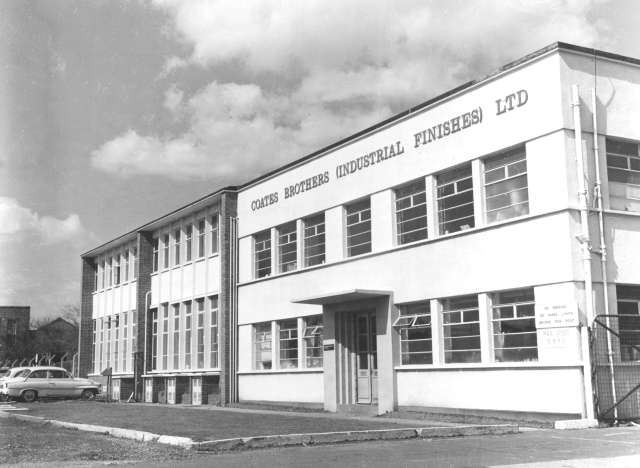 Located in London, the business is capitalized at 2600 £.
1878
Ault & Wiborg is founded
Located in Cincinnati, Ohio, Ault & Wiborg is a fast-growing printing inks manufacturer that quickly expands its business abroad, focusing on the UK market.
1906
Four-color process debuts
The Eagle Printing Ink Company develops four-color wet process inks.
1907
The first litho press is invented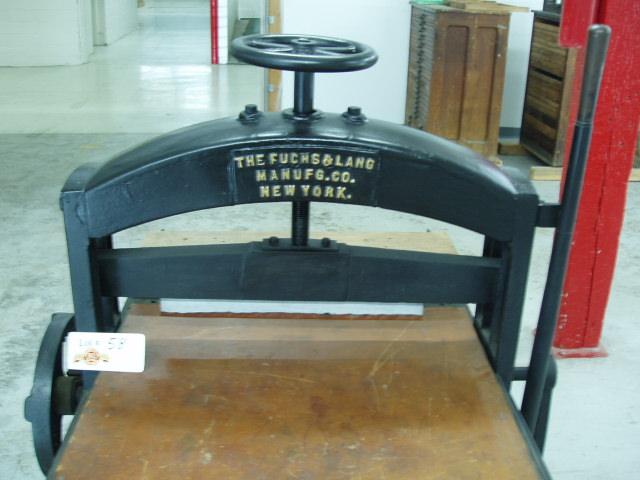 Fuchs & Lang build the first rotary tinplate lithography press. G. Siegle begins manufacturing pigments in Staten Island, NY.
1910
Rotogravure is introduced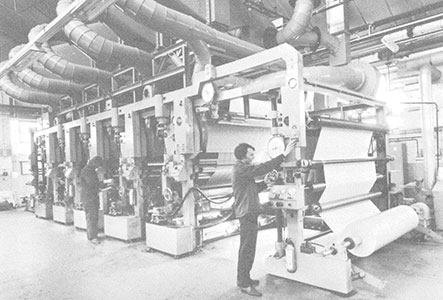 Rotogravure, a printing process in which letters and pictures are transferred from an etched copper cylinder to a web of paper, plastic or similar material in a rotary press, is invented.

Historic mergers
A.B. Ansbacher merges with G. Siegle and the Ansbacher-Siegle Company is formed. During the same year, The Morrill Company merges with Eagle, Sigmund Ullman, Fuchs & Lang and American to form General Printing Ink (GPI). GPI becomes the first ink manufacturer with coast-to-coast operations.

GPI becomes Sun Chemical

GPI changes its name and Sun Chemical is born. Printing inks remain its principal business.
1947
Web offset lithography is born
Web offset lithography, which works by first transferring an image photographically to ink printing plates, is pioneered
Performance Pigments division is formed
Sun Chemical acquires Ansbacher-Siegle and begins to create a new division, known today as Performance Pigments.
Read more

Solvent-based flexo inks are introduced

Solvent-based flexo inks are created for use on polyethylene films.
1966
Quinacridone is manufactured
Sun Chemical begins to manufacture quinacridone out of its Newark, New Jersey, facility, marking the company's entry into the high-performance pigments market.
1968
Federal Colors Laboratories is acquired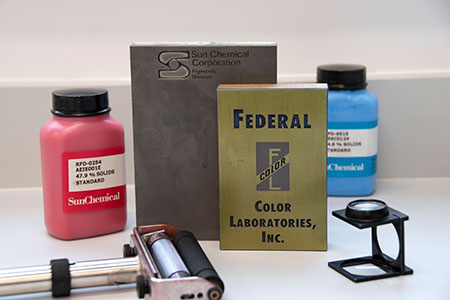 Sun Chemical buys Federal Color Labs in Cincinnati, Ohio.
1970
Water-based inks are created
The first water-based inks are introduced for use on paper and film.
1978
Pigment manufacturing begins
Sun Chemical begins to manufacture pigments in Muskegon, Michigan.
1980
EB inks go commercial
Sun Chemical commercializes EB inks. In the same year, they acquire the phthalo pigment business from American Cyanamid.

Sun Chemical grows
Sun Chemical is acquired by Dainippon Ink and Chemicals (DIC). Sun Chemical also merges with Hartmann and Kohl & Madden to form one global company.
1991
BASF is acquired
Sun Chemical buys the BASF packaging and commercial inks business.
1992
UV flexo inks go commercial
The first UV flexo inks are commercialized by Sun Chemical. In the same year, Sun Chemical acquires KVK in Koge, Denmark, marking the company's first step into European pigment manufacturing.
1993
US Ink is acquired
Sun Chemical acquires a top producer of cold-set publication inks, United States Printing Inks.
1994
Moscow Inks is bought out
Sun Chemical acquires Moscow Printing Inks.
1996
Zeneca Inks is acquired
Sun Chemical strengthens their packaging inks department in North America with the acquisition of Zeneca Specialty Inks.
1997
Sun Chemical enters joint venture
Sun Chemical and Eastman Kodak enter a $1 billion, 50/50 joint venture to form Kodak Polychrome Graphics.
Sun Chemical grows globally
The company acquires Coates Lorilleux in France, SWALE Process in the UK and GB Products International Flexo Plate Division, and partners with Tintas in Latin America.
2003
Bayer Pigments is acquired
Sun Chemical buys Bayer's high-performance organic pigment business.
2004
More acquisitions and growth
Sun Chemical acquires Rycoline Products, Inc. and buys the assets of CBS Printas, the printing ink business of CBS Holding, a publicly traded company in Turkey.
Sun Branding Solutions is formed
Sun Chemical acquires Watt Gilchrist and forms Sun Branding Solutions.
Frankfurt and Dahej packaging plant
Sun Chemical opens state-of-the-art food packaging plant in Frankfurt and sheet-fed ink hub in Dahej, India.
Kankakee packaging plant
Sun Chemical opens state-of-the-art packaging plant in Kankakee, IL, and expands into high definition plate technology in Concord, CA.
PantoneLIVE ™ and Benda-Lutz
Partnership with X-Rite/Pantone and Esko on PantoneLIVETM Sun Chemical acquires Benda-Lutz.
2015
Kingfisher Colours Limited Acquired
Sun Chemical Acquires Kingfisher Colours Limited
2016
Gwent Electronic Materials Purchased
Sun Chemical and the DIC Corporation Acquire Gwent Electronic Materials Ltd.
2017
Sun Chemical Grows
Sun Chemical Acquires Transitions Digital Graphics, LLC
Sun Chemical Acquires Joules Angstrom U.V. Printing Inks Corp.
Sun Chemical Acquires RJA Dispersions Business
2018
Sun Chemical Acquires C.T.LAY to Expand Portfolio for Plastic and Security Cards
Sun Chemical and its parent company, DIC Corporation, have acquired C.T.LAY S.R.L.
2018
Sun Chemical and DIC Corporation Acquire Luminescence Holdings Ltd.

Sun Chemical and its parent company, DIC Corporation, have acquired Luminescence Holdings Ltd., a manufacturer of currency, tax stamp, passports, ID cards, secure documents and brand protection inks for the security market.
2018
Sun Chemical Acquires PPG's Metal Deco Ink Business
Sun Chemical has acquired the Metal Deco ink business of PPG, a US-based global supplier of paints, coatings and specialty materials. PPG, with a well consolidated portfolio, and Sun Chemical are both long standing players in the metal packaging industry.
2018
Sun Chemical Acquires High-Purity Oxides Business of Cathay Industries
Sun Chemical and its parent company, DIC Corporation, have acquired the high-purity iron oxides business of Cathay Industries, located in Valparaiso, Indiana, U.S.A.
2019
Sun Chemical Names Myron Petruch President and Chief Executive Officer

Sun Chemical has appointed Myron Petruch as its President and Chief Executive Officer, effective January 1, 2019.
The Future
As Sun Chemical moves forward, we will continue our commitment to delivering quality, service and innovation to our customers. As we relentlessly seek the most inventive ways to satisfy our customers' needs, we will strive to provide outstanding service and breakthrough, tailored solutions. With more than 176 subsidiaries worldwide and a broad breadth and depth of resources from which to draw, Sun Chemical is prepared to help our customers take on the global challenges of tomorrow.