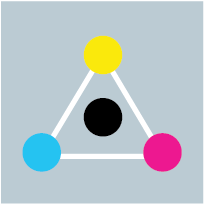 SunCMYK: Service that Helps Printers and Converters Achieve ISO 12647 Standard for Process Colors
SunCMYK is a Sun Chemical service developed to assist printers and converters achieve the ISO 12647 standard. Trained by the FOGRA, UGRA or G7 governing bodies to certify printers and converters to ISO 12647, our highly qualified professionals can evaluate the current status of your printing environment and implement the correct controls, processes and procedures to ensure that you will achieve certification or, if preferred, confirm your compliance with the ISO standard.
ISO 12647 was created as an industry standard for everyone in the supply chain to reference and target for the process colors with the aim of ensuring consistent printing conditions so that work becomes repeatable across presses or even sites within a company and that, if produced by different printers, the same job will be printed in a consistent way.
As a result, if a designer working on an illustration in their artwork file applies this standard to the illustration elements, the prepress can generate digital contract proofs as targets for approval, plates or cylinders can be cut to the required percentages of each process color to achieve the illustration and the converter can work toward the same values so the desired result will be achieved with minimal downtime for color on press.
We understand that achieving the required ISO standard can be a challenge for printers and converters due to the many variable factors around the production process, including the stability and age of the press, together with the potential for variation in plates, aniloxes and cylinders.
Customer Testimonials
Sun Chemical customers who have used our SunCMYK service include Offset Print & Packaging, John Good Printers, and ASG Europe. Here's what they had to say:
"Sun Chemical's SunCMYK service has helped us to obtain ISO 12647 certification. Their specialists are always pleasant, thorough and explain the process of fingerprinting to us so that we can understand it. There is no jargon; which is refreshing."
-Mark Jeavons, Print Manager of Offset Print & Packaging
"Having worked with Sun Chemical on a number of projects, they have demonstrated their expertise in supporting us with color management. With their knowledge and commitment, we have achieved ISO12647 standards across all of our litho presses. Through their guidance we are able to maintain this consistently throughout the year."
-Simon Mckay, Operations Director of John Good Printers
"At ASG, we hold the ISO 12647-2 accreditation for the process control of color management encompassing PantoneLIVE. The support of Sun Chemical and the SunCMYK service play a key role in helping our group to maintain these standards and make continuous improvements."
-Lance Blizzard, European Technical Director of ASG
Feel like learning more? Download our SunColorBox Guide.
Request