SOLSYS for Advanced Photovoltaics (PV)
SOLSYS Photovoltaic (PV) Solutions for Advanced Solar Cells Manufacturing
 SOLSYS advanced photovoltaic solutions have proven ability to deliver higher performance, excellent reliability, and higher cost-performance balance in the manufacture of advanced solar cells. The broad product portfolio of etch and plating resists and dielectrics allows for high quality patterning of metallization layers for advanced solar cell technologies, including p-type and n-type crystalline silicone cells (i.e. advanced PERC, HJT, IBC, etc.) as well as thin film solar cells (CdTe, GaAs, CIGS, etc.).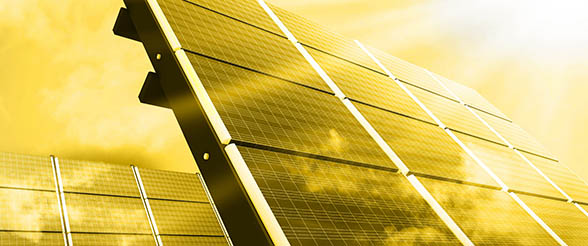 Etch and Plating Resists
• Various deposition processes are possible, including screen printing, hot-melt ink-jet printing, roll coating, edge coating, and others
• Available in thermal and UV curable versions. Newest UV-LED curable resists offer additional processing and environmental benefits
Hot Melt Etch and Plating Inks
• Environmentally friendly – Zero VOC's
• Print dimension tracks less than 50 microns, and gaps less than 25 microns
• Clear options suitable for light induced plating
Dielectric Inks
• Thermally or UV curable
• High temperature stability for reliable processing and operation life
Learn more about our photovoltaic solutions.
Contact us